Cupids Desire Recipe
Cupid's desire is a special Valentine's day dessert recipe that you will love. It is fancy and delicious to taste. Vanilla beans Panacotta is a sweet dish made with white chocolate, gelatin, raspberry and blue berry.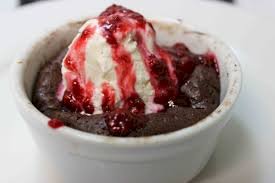 Cupids Desire Recipe
Ingredients:
Recipe :
Step 1 Soak gelatin and mix with fresh cream and castor sugar

Soak the gelatin in water; keep aside for 5-10 minutes. Heat the fresh cream with castor sugar, now add the soaked gelatin. Keep aside for 10 minutes.

Step 2 Prepare the chocolate pipe and garnish

Melt the white chocolate and make a cylindrical pipe. And keep aside. Pipe the mixture in the white chocolate roller, and keep in Chiller for 30- 35 Minutes. Garnish it with chocolate curls, raspberry, and blueberry as shown in the picture.