Besan Bhindi Recipe
Okra or Bhindi is a summer favourite vegetable for North Indians. Okra can be prepared in a lot of different ways suiting your taste preferences. Besan Bhindi is a very popular North-Indian recipe. This recipe makes okra crispy and presentable to be served for dinner or lunch parties, potluck or buffets.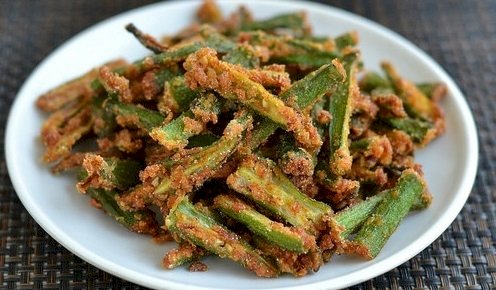 Besan Bhindi Recipe
Ingredients:
Recipe :
Step 1

Firstly, wash okra and place it aside. You can pat them dry with vegetable kitchen cloth before chopping them. Now, place them over a chopping board and cut them in slanting shape.

Step 2

Next, take a bowl and add gram flour, salt, chilli powder, asafoetida and turmeric in it. Mix all the ingredients well.

Step 3

Now add chopped okra into the bowl and coat them properly. Place a pan over medium flame and pour oil in it. Once the oil is heated, add okra into the pan.

Step 4

Pan fry okra pieces until crispy and serve hot.